Virginia Mason Medical Center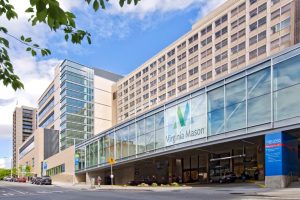 1100 9th Ave.
Seattle, WA 98101
206-624-1144
www.virginiamason.org
Virginia Mason Medical Center is one of the premier health care facilities in the Pacific Northwest and consistently named one of America's Best Hospitals by Healthgrades. Many of our physicians are nationally known for their expertise and the compassionate care they provide to patients throughout the region.
About Our Kidney Transplant Program
The Virginia Mason Franciscan Health Transplant Center in Seattle is a leader in kidney and pancreas transplant procedures in the Puget Sound region.
Virginia Mason Franciscan Health is also the first medical center in the Pacific Northwest to earn designation as a Donor Care Network Center of Excellence by the National Kidney Registry. The Donor Care Network is comprised of transplant programs across the United States that have met rigorous standards and are committed to specific actions that support quality clinical outcomes and patient experiences.
The mission of the Transplant Center at Virginia Mason Franciscan Health is to focus on each patient as an individual, while retaining superb results and the best long-term outcomes possible. We want to efficiently build a bridge to better health and the highest quality of life for each recipient. Virginia Mason Franciscan Health prides itself in being a national leader in patient safety and integrated health care. We have learned from nearly 40 years of performing transplants at Virginia Mason Franciscan Health that the key to success is helping you learn as much as possible.
Center Information
NKR Transplants Last 12 Months: 12
Living Donor Transplants Prior Year: 28
Kidney for Life Participant: No
Low Eplet Transplants Last 12 Months: 0