Emory Transplant Center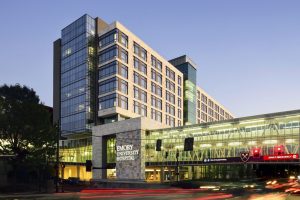 1365 Clifton Rd. Northeast
Atlanta, GA 30322
(855) 366-7989
www.emoryhealthcare.org
As one of the best organ transplant programs in the Southeast, Emory Transplant Center is a leader in clinical excellence and pioneering new transplant therapies. Our patients come from all over the nation for our high level of expertise and proven patient outcomes. We are proud to be ranked among the top 15 transplant programs in the nation and have performed more than 10,000 transplants to date.
About Our Kidney Transplant Program
The Emory Kidney Transplant Program ranks as one of the most prestigious transplant programs in the country. Emory's team of specialists is highly skilled in the care of kidney transplant patients and living donors. We will work with you every step of the way in your transplant journey.
Experience: Emory performed Georgia's first kidney transplant in 1966 and has performed more than 5,600 kidney transplants to date. Our Emory Kidney Transplant Program ranks among the top 15 programs in the nation for adult kidney transplant volume (OPTN, CY2020 data).
Commitment to Transplant Research: Emory is at the forefront of kidney transplant research. Our physicians played a key role in the development of Belatacept, a drug that prevents rejection without some of the toxic side effects associated with previously available immunosuppressive agents.
Living Donor Program and Paired Donor Exchange: We offer a well-established living donor kidney transplant program, having performed more than 1,600 living donor transplants to date. Our Paired Donor Exchange Program ranks among the top 10 paired donor programs in the country through the National Kidney Registry (NKR).
Center Information
NKR Transplants Last 12 Months: 31
Living Donor Transplants Prior Year: 87
Kidney for Life Participant: No
Low Eplet Transplants Last 12 Months: 3