University of California San Diego Medical Center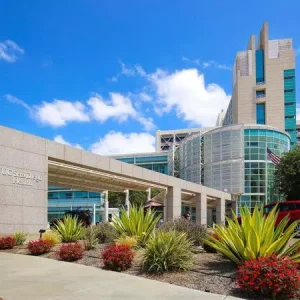 200 W Arbor Dr.
San Diego, CA 92103
(858) 657-7000
https://health.ucsd.edu
UC San Diego Health is repeatedly ranked the No. 1 health care system in San Diego. With more than 1,500 doctors and scientists who are published experts in their fields, we're well equipped to deliver unparalleled patient care. Armed with groundbreaking clinical research, our dedicated faculty is saving lives and shaping the future of medicine.
About Our Kidney Transplant Program
​As the only academic kidney transplant program in the region, UC San Diego Health offers patients access to sophisticated surgical techniques and advanced treatments developed through innovative research. We are San Diego's largest program, with 3,154 kidney transplants performed since 1968.
We are dedicated to providing comprehensive care for transplant recipients and living donors before, after and during transplantation. Our team saves lives every day while taking on some of the toughest, highest-risk cases.
High Survival Rate: Our one-year patient survival rates for kidney transplants exceed the national average, placing us among the nation's best transplant centers by the Scientific Registry of Transplant Recipients (SRTR). Learn about our high transplant survival rates.
Living Kidney Donation: As part of the National Kidney Registry's Paired Exchange Program, we have the unique ability to allow donors who are not blood or tissue compatible to "exchange" their kidney with a donor who is compatible. Our team can also help coordinate with donors who live outside the U.S.
Kidney Voucher Program: This program allows donors to donate their kidney many years before their intended recipient may need one. UC San Diego Health is the first San Diego transplant program to implement the voucher program, which started in 2014. About 40 percent of transplant centers in the nation participate in the program, which is offered through the National Kidney Registry.
Other Advantages:

Steroid avoidance: Patients who are low immunologic risk can be weaned off of steroids within a week after their transplant.
Hepatitis C transplants: Thanks to new medications for hepatitis C, we can transplant some kidneys from patients with hepatitis C into patients without hepatitis C. We can then treat the kidney recipient for the disease after the transplant. This can decrease time on the waiting list with minimal risk.
BMI over 40: We treat patients with a body mass index (BMI) over 40 with pre-surgical approval and offer a free weight loss class.
Age over 70: We consider transplant candidates over age 70 if they are in good overall health and will use kidneys from donors up to age 70.
Customized reevaluation: A customized reevaluation can be provided based on patient risk factors.
Center Information
NKR Transplants Last 12 Months: 15
Living Donor Transplants Prior Year: 41
Kidney for Life Participant: Yes
Low Eplet Transplants Last 12 Months: 4