MedStar Georgetown University Hospital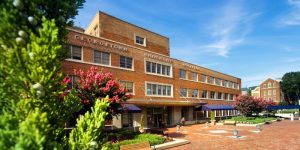 3800 Reservoir Rd. NW
Washington, DC 20007
(202) 444-2000
https://www.medstarhealth.org
MedStar Georgetown University Hospital is committed to creating an environment of personalized care focused on the unique needs of our patients. Our physicians—many of them fellowship-trained—are nationally and internationally renowned for their expertise, as well as for their innovative approaches from diagnosis to treatments.
About Our Kidney Transplant Program
MedStar Georgetown Transplant Institute offers the expertise of some of the foremost kidney specialists in the country and our patients have access to a wide range of pioneering kidney transplant options, including one of the most successful laparoscopic living donor kidney programs in the region. Our transplant outcomes and survival rates are among the best in the nation.
MedStar Georgetown Transplant Institute is a member of the National Kidney Registry (NKR). The NKR's goal is to help donors receive the best matched kidneys for better outcomes and longer lasting kidneys. As an NKR member, we're able to offer kidney transplant patients and living donors programs and benefits that other non-NKR centers cannot offer, including:
Paired kidney exchange
Advanced donation
Non-directed donation
Family voucher program
Special donor protections
And more
We are a national leader in the NKR's living donor paired kidney exchange and the management of recipients and donors who have incompatible organs or immune-system sensitivity. Only a handful of transplant centers in America offer this to their patients.
Center Information
NKR Transplants Last 12 Months: 45
Living Donor Transplants Prior Year: 78
Kidney for Life Participant: Yes
Low Eplet Transplants Last 12 Months: 24