Piedmont Hospital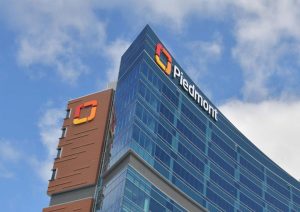 1968 Peachtree Road NW
Atlanta, GA 30309
(404) 605-4600
www.piedmont.org
Piedmont is a private, not-for-profit organization offering an integrated health care system that provides a hassle-free and unified experience. For centuries we have lived up to our purpose to make a positive difference in every life we touch in the communities we serve.
About Our Kidney Transplant Program
When it comes to transplant surgery, patients need a proven, experienced leader they can count on to deliver unparalleled care and the best possible outcomes. Since 1986, Piedmont Transplant Institute has been recognized as one of the nation's most successful transplant programs, performing over 5,000 transplant surgeries for liver, pancreas, kidney and heart recipients.
Patient outcomes among the best in the nation
Significantly shorter recipient wait times vs. national averages (liver transplant)
High patient satisfaction ratings across all stages of care
First in Georgia to offer:

Living Donor Robotic Donor Nephrectomy
Paired donor transplant

Number of transplants per year ranked in the top 10% U.S. abdominal transplant programs
Statewide satellite clinic program to enhance access to care
Center Information
NKR Transplants Last 12 Months: 42
Living Donor Transplants Prior Year: 49
Kidney for Life Participant: Yes
Low Eplet Transplants Last 12 Months: 8