Hospital of the University of Pennsylvania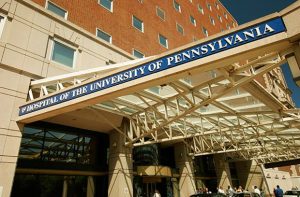 3400 Spruce St.
Philadelphia, PA 19104
(215) 662-4000
www.pennmedicine.org
The Hospital of the University of Pennsylvania's world-class faculty and staff are dedicated to superior patient care, education and research for a better, healthier future. Innovative research coupled with responsive, hands-on care allows us to tailor treatment specifically to individual patient needs.
About Our Kidney Transplant Program
Our surgeons perform nearly 200 kidney transplants every year, making Penn's kidney transplant program the largest and most experienced kidney transplant program in the region. In May of 2013, The Penn Transplant Institute became the 14th institution in the country and the first in the region to perform 5,000 kidney transplants.
Additionally, our program has been awarded a prestigious Silver Level Award by the U.S. Department of Health and Human Services (HHS) for our outstanding outcomes.
Patients who choose Penn for their kidney transplant have access to the most advanced care available. You benefit from:
A living kidney donor program, offering an excellent alternative to a long waiting time for a kidney
The most experienced physicians in the country who have performed more than 5,000 kidney transplants
The most progressive treatment available, as Penn supports research programs that are at the forefront of new developments in kidney transplantation
A kidney transplant program that offers patients total integration of care from pre-surgery management, through the kidney transplant surgery and postoperative care
Center Information
NKR Transplants Last 12 Months: 74
Living Donor Transplants Prior Year: 84
Kidney for Life Participant: Yes
Low Eplet Transplants Last 12 Months: 27