UCI Health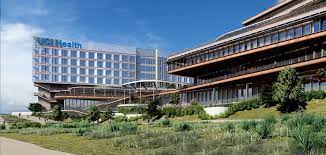 101 The City Drive South
Orange, CA 92868
(310) 825-9111
www.ucihealth.org
UCI Health is a devoted team of nationally regarded physicians and nurses, researchers and clinicians, educators and students united by a single calling—to improve the lives of the people in our community and beyond. As the only academic health system in Orange County, our multifaceted organization is fiercely dedicated to the discovery of new medical frontiers, to the teaching of future healers and to the delivery of the finest evidence-based care. We are unique in our ability to provide the most compassionate healthcare because we're driven by our passion for innovation, grounded in the best medical and scientific knowledge.
About Our Kidney Transplant Program
Patients on dialysis and those with deteriorating kidney function can turn to the UCI Health Kidney Transplant Program for comprehensive, individualized transplantation services.
As Orange County's oldest and largest kidney transplant program, our experienced team offers patients with kidney failure an opportunity for a healthier life. After a kidney transplant, recipients often feel stronger and have more energy, enabling them to return to work, enjoy a more liberal diet and an improved quality of life. Our kidney transplant outcomes exceed the national survival average.
We also have a kidney donor program for patients who have a living donor. Living donor kidneys dramatically improve patients' long-term survival because they function better and last far longer than kidneys from deceased donors.
Our services include:
Living donor kidney transplantation
Deceased donor kidney transplantation
Paired donor kidney exchange
ABO incompatible kidney transplant
Highly sensitized kidney transplant
Hand-assisted living kidney donor surgery
Positive cross-match kidney transplant
Transplant with hepatitis C or HIV infection
Center Information
NKR Transplants Last 12 Months: 6
Living Donor Transplants Prior Year: 18
Kidney for Life Participant: Yes
Low Eplet Transplants Last 12 Months: 0