NYU Langone Health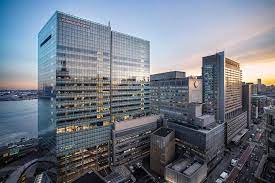 550 First Avenue
New York, NY 10016
646-929-7870
https://nyulangone.org

NYU Langone Health is one of the nation's premier academic medical centers. Our trifold mission to serve, teach, and discover is achieved daily through an integrated academic culture devoted to excellence in patient care, education, and research.
About Our Kidney Transplant Program
At the NYU Langone Transplant Institute, our experts provide world-class care with outstanding outcomes to people in need of a kidney transplant.
We are the top-ranked transplant program in the country, with the highest transplant rate in New York City. Our program ranks highest in the nation for its one-year survival after transplant surgery, according to the latest data from the Scientific Registry of Transplant Recipients (SRTR).
We are ranked as the top center in New York for speed to transplant with a deceased donor organ, and our doctors have transplanted more kidneys than any other center in New York State.
Our modern facilities include state-of-the-art testing sites, dedicated inpatient surgical and intensive care units, outpatient physician offices, and single-occupancy rooms for all of our patients.
Center Information
NKR Transplants Last 12 Months: 21
Living Donor Transplants Prior Year: 62
Kidney for Life Participant: Yes
Low Eplet Transplants Last 12 Months: 22