Legacy Good Samaritan Medical Center, Transplant Services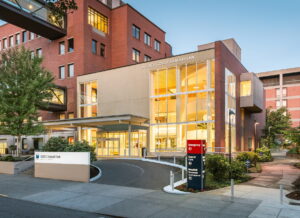 1130 NW 22nd Ave. Suite 400
Portland, OR 97210
(503) 413-6555
https://www.legacyhealth.org
Legacy Health is a locally owned, nonprofit, six-hospital health system that also includes a full-service children's hospital, a 24-hour mental and behavioral health services center, and more than 70 primary care, specialty and urgent care clinics, 14,000 employees and nearly 3,000 health care providers. We provide comprehensive health care services across the Portland and Vancouver metro area and mid-Willamette Valley, and have the most five-star ratings for hospitals in the region. From rural areas to urban centers, we play a critical role in the lives of 2.5 million people.
About Our Kidney Transplant Program
The quality of our care is high because we tailor treatment to each individual. Legacy's transplant team consists of surgeons, medical specialists, nurse coordinators, social workers and other staff members who provide superior, specialized expertise throughout the transplant process.
From careful pre-transplant monitoring to post-surgical care, Legacy's strong commitment to continuous quality improvement creates excellent outcomes for transplant patients. Since its start, Legacy Transplant Services has been at the forefront of kidney transplantation. We are home to the first laparoscopic kidney donation in Oregon, and the only transplant program in Oregon to be a member of the Alliance for Paired Donation.
Center Information
NKR Transplants Last 12 Months: 13
Living Donor Transplants Prior Year: 25
Kidney for Life Participant: No
Low Eplet Transplants Last 12 Months: 0