NewYork-Presbyterian/Weill Cornell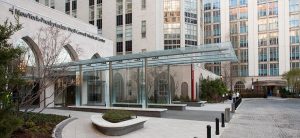 525 East 68th Street
New York, NY 10065
(212) 746-5454
www.nyp.org
NewYork-Presbyterian/Weill Cornell Medical Center is an 862-bed medical center that is affiliated with Weill Cornell Medicine and part of NewYork-Presbyterian, one of the nation's most comprehensive academic healthcare delivery systems. NewYork-Presbyterian/Weill Cornell is consistently recognized as a leader in medical education, groundbreaking research, and innovative patient care. Our staff is dedicated to providing the highest quality, most compassionate care and service to each and every one of our patients and their families in a warm and friendly environment.
About Our Kidney Transplant Program
The transplant program at NewYork-Presbyterian Hospital is one of the most experienced, innovative, and established programs in the country.
NewYork-Presbyterian, in cooperation with the Rogosin Institute, established the first kidney transplant program in New York. We've since developed the largest kidney transplant programs in the country, where we provide advanced care based on the latest transplant advances for adults and children.
Our centers are home to two of the biggest living donor kidney transplant programs, with expanded living donor kidney options that make this lifesaving operation accessible to more people. We are also one of the few institutions offering kidney transplants for patients who would normally reject the donated kidney, using a process called plasmapheresis plus medications to reduce antibody levels in the recipient's blood.
Our world-renowned transplant physicians are able to achieve excellent outcomes, while caring for this very complicated and complex patient population. They are also leaders in research to developing innovative protocols ways to optimize transplanted kidneys organs and improve patient survival.
Center Information
NKR Transplants Last 12 Months: 47
Living Donor Transplants Prior Year: 115
Kidney for Life Participant: Yes
Low Eplet Transplants Last 12 Months: 17