University Hospitals Transplant Institute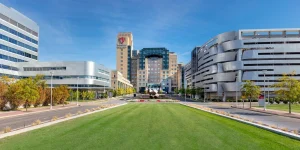 11100 Euclid Ave.
Cleveland, OH 44106
(855) 401-9203
www.uhhospitals.org
No matter their age or gender, patients at University Hospitals Transplant Institute benefit from decades of research and experience, a highly qualified multidisciplinary team of experts, and carefully coordinated patient care across all specialties.
About Our Kidney Transplant Program
At UH Transplant Institute, our leading-edge surgeons and transplant team are passionate about extending and improving the quality of life for patients with end-stage renal disease (ESRD). Through July 2022, UH Transplant Institute has performed 2,600 successful kidney transplants.
Kidney transplant success rates at UH meet or exceed the national averages. It is our utmost goal to ensure the highest rate of transplant success so that our patients are able to start living normal lives again – whether working, exercising, enjoying social events, or resuming an active role in the family.
From the initial consultation to the actual transplant to the follow-up visits, we stay in close contact with both the patient and the referring physician. Our team members are available around the clock for any issues or concerns.
Center Information
NKR Transplants Last 12 Months: 13
Living Donor Transplants Prior Year: 13
Kidney for Life Participant: No
Low Eplet Transplants Last 12 Months: 1