Allegheny General Hospital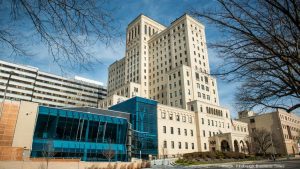 320 East North Avenue
Pittsburgh, PA 15212
(412) 359-3131
www.ahn.org
Allegheny General Hospital (AGH) has provided exceptional health care services to residents of Pittsburgh's North Side and surrounding communities since 1886.
At Allegheny Health Network (AHN) Surgery Institute, our living kidney donor specialists are committed to your health and safety. They offer medical expertise with compassion that prioritizes your physical, mental, and emotional health throughout the donor process.
About Our Kidney Transplant Program
Less invasive donor surgery: We are the only transplant center in the region to use advanced robotic technology during kidney donor surgery. Our surgeons make a tiny incision and use the robot to guide their movements. This less invasive approach makes the procedure safer for donors and helps them experience easier recoveries.
Surgical expertise: Our surgeons have been performing successful donor surgeries on men and women of different ages since 1987. Our transplant surgeons are board-certified and fellowship-trained, which means they have gone through years of intense training to safely perform complex donor and transplant procedures.
Outstanding care quality: We have received national distinction for our innovative living donor care, including awards from the U.S. Health Resources and Services Administration (HRSA). We also earned the Excellence in Teamwork award from the National Kidney Registry for our innovative approach to finding prospective living kidney donors.
Donor registry participation: We are a proud member of the National Kidney Registry (NKR), the largest living donor pool in the world. By participating in this registry, we pair more donors with suitable transplant recipients through paired donation. This process helps more people benefit from life-changing kidney transplant surgery.
Personal attention: We understand what a selfless act kidney donation is. We have two coordinators devoted exclusively to guiding donors through the kidney donation process. Our donors also have private rooms during their hospital stay. We want you to feel confident in your care at all times, and we're committed to ensuring your experience is as positive as possible.
Center Information
NKR Transplants Last 12 Months: 19
Living Donor Transplants Prior Year: 27
Kidney for Life Participant: Yes
Low Eplet Transplants Last 12 Months: 3