Brigham and Women's Hospital Living Donor Center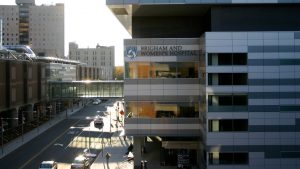 75 Francis St.
Boston, MA 02115
(617) 732-5500
www.brighamandwomens.org
Brigham and Women's Hospital (BWH) is a world-class academic medical center based in Boston, Massachusetts. The Brigham serves patients from New England, across the United States and from 120 countries around the world. A major teaching hospital of Harvard Medical School, Brigham and Women's Hospital has a legacy of clinical excellence that continues to grow year after year.
One of the most successful programs of its kind in the United States, the Kidney Transplant Program at Brigham and Women's Hospital began with the world's first successful human organ transplant (a kidney transplanted from one identical twin to another), performed by Dr. Joseph Murray in 1954. Shortly thereafter, Dr. Murray performed the first successfully treated living non-identical twin and deceased donor transplants. For his pioneering work in this field, Dr. Murray was awarded the Nobel Prize in 1990.
About Our Kidney Transplant Program
State-of-the-art treatment for sensitized patients (those with antibodies that can cause rejection) and difficult-to-treat kidney conditions, including matching patients in some of the most successful paired kidney exchange programs.
Minimally-invasive surgical techniques for living kidney donors, designed to shorten hospital stays and speed recovery (compared with traditional approaches).
Leading-edge research studies, including new ways to individualize immunosuppression for recipients and improve donor organ quality, and participating in COIIN, a multi-center study aimed at improving the percentage of deceased donor kidneys that are transplanted.
Patient-centered approach, including a one-day evaluation clinic for qualified patients and multiple opportunities to engage with the team for education and support.
Center Information
NKR Transplants Last 12 Months: 28
Living Donor Transplants Prior Year: 43
Kidney for Life Participant: Yes
Low Eplet Transplants Last 12 Months: 4