Atrium Health Wake Forest Baptist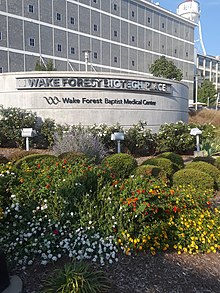 Medical Center Boulevard
Winston-Salem, N.C. 27157
(336) 716-2011
www.wakehealth.edu
Atrium Health Wake Forest Baptist is a pre-eminent academic health system based in Winston-Salem, North Carolina. Atrium Health Wake Forest Baptist's two main components are an integrated clinical system – anchored by Atrium Health Wake Forest Baptist Medical Center, an 885-bed tertiary-care hospital in Winston-Salem – that includes Brenner Children's Hospital, five community hospitals, more than 300 primary and specialty care locations and more than 2,700 physicians; and Wake Forest School of Medicine.
About Our Kidney Transplant Program
Our multidisciplinary team provides comprehensive transplant care, from your initial evaluation, to the surgery and long-term post-surgical care.
Our doctors are fellowship-trained multi-organ abdominal transplant surgeons specializing in kidney and pancreas transplantation, dialysis access, and general surgery in patients with renal failure. We also have fellowship-trained nephrologists specializing in transplantation medicine.
We perform more than 200 transplants annually and are ranked among the top 30 most active kidney and pancreas transplant programs nationally. Our extensive experience translates to better care and outcomes for you. Our patients receive a transplant more quickly than at other centers in the state or region.
Center Information
NKR Transplants Last 12 Months: 11
Living Donor Transplants Prior Year: 35
Kidney for Life Participant: No
Low Eplet Transplants Last 12 Months: 3