University of Minnesota Medical Center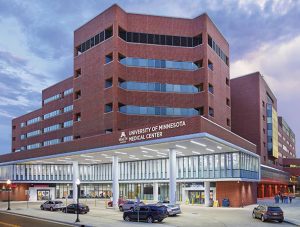 500 Harvard St. SE
Minneapolis, MN, 55455
(612) 273-3000
https://mhealthfairview.org
University of Minnesota Medical Center is the flagship location for M Health Fairview, a partnership between University of Minnesota, University of Minnesota Physicians, and Fairview Health Services. We combine the University's deep history of clinical innovation and training with Fairview's extensive roots in community medicine. This means you'll always have access to the latest techniques and advances in medicine—when and where you need them. M Health Fairview is providing breakthrough medicine and transforming the health of our communities for the better.
About Our Kidney Transplant Program
Our kidney transplant program is one of the largest and oldest in the world and is internationally recognized for our expertise in living kidney donation. To date, we have performed more than 9,000 kidney transplants. Our transplant physicians continue to develop the latest techniques and technologies so we can offer these to our patients.
More than half of the kidneys we transplant come from living donors. We regularly perform living donor kidney transplants arranged through our paired exchange program (PEP), which is a great option for transplant candidates with living donors who may not be a match. We also offer desensitization therapy for living or deceased donor transplant candidates when they are hard to match.
In 1999, we became the first hospital in the United States to perform a kidney transplant from a non-directed living donor—when a donor gives a kidney to someone on a waiting list that he or she does not know. We continue to be the national leader in this area, having had more people donate through this program than any other in the country. Non-directed living kidney donors who participate in our paired exchange program often find their gift triggers two or more transplants.
Center Information
NKR Transplants Last 12 Months: 76
Living Donor Transplants Prior Year: 90
Kidney for Life Participant: Yes
Low Eplet Transplants Last 12 Months: 49