Hartford Hospital Transplant Center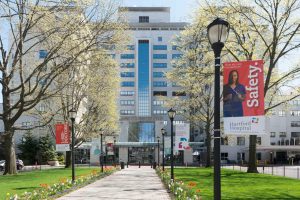 80 Seymour St.
Hartford, CT 06106
(860) 545-5000
https://hartfordhospital.org
Hartford Hospital, founded in 1854, one of the largest teaching hospitals and tertiary care centers in New England with perhaps the region's busiest surgery practice, has been training physicians for over 160 years. Hartford Hospital has been performing transplants since 1971. Our outstanding team provides a multidisciplinary approach to care with expertise in kidney, liver and heart transplants.
About Our Kidney Transplant Program
The Kidney Transplant Program at Hartford Hospital was established in 1971 and is one of the oldest and most successful in New England.
The Transplant Program team is committed to providing supportive and respectful patient centered care and knows the most important member of the team is the patient. We are committed to keeping patients informed and helping them become active partners in their healthcare. We will do everything we possibly can to make patients comfortable and ensure they understand the transplant process.
Center Information
NKR Transplants Last 12 Months: 27
Living Donor Transplants Prior Year: 46
Kidney for Life Participant: Yes
Low Eplet Transplants Last 12 Months: 5