Baystate Medical Center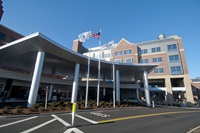 759 Chestnut Street
Springfield, MA 01199
413-794-0000
www.baystatehealth.com
Baystate Medical Center is a 716-bed independent academic medical center. We are the community's major referral hospital, and we provide a wide range of services.
About Our Kidney Transplant Program
The living kidney donor program at Baystate Medical Center is helping to make kidney transplants available to those who need them. Healthy kidneys tend to last longer and function better than kidneys from donors who have passed away. Our expert multidisciplinary team provides the highest quality of personalized care as we guide patients through their journey from evaluation to surgery and recovery.
Center Information
NKR Transplants Last 12 Months: 14
Living Donor Transplants Prior Year: 10
Kidney for Life Participant: Yes
Low Eplet Transplants Last 12 Months: 4