UCLA Medical Center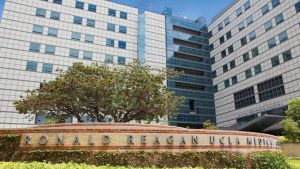 757 Westwood Plaza
Los Angeles, California 90095
(310) 825-9111
www.uclahealth.org
For more than 60 years, UCLA Health has provided the best in health care and the latest in medical technology to the people of Los Angeles and throughout the world. We strive every day to be a model that redefines the standard of excellence in health care. It is our integrated mission to provide state-of-the-art patient care, to train top medical professionals and to support pioneering research and discovery.
About Our Kidney Transplant Program
The UCLA Health Kidney Transplant Program is one of the longest-running, most exceptional programs of its kind in the country. The specialists in the Kidney Transplant Program at UCLA Health are among the most experienced in the country. Their expertise means that our adult and pediatric patients benefit from some of the best outcome rates in the nation. We provide expert care for all patients, including those with complex conditions. Additional highlights of our program include:
High volume: Our program treats the most patients in the nation, performing hundreds of kidney transplants each year. Since our program began in 1965, our surgeons have performed more than 8,000 kidney transplants. Treating a high volume of patients means our specialists and support teams have a wealth of experience.
Exceptional outcomes: Our outcomes and survival rates have been consistently higher than the national average for nearly 20 years. These numbers are especially impressive, because, as a referral center, we constantly see patients with the most complex diseases.
Access to kidney transplant specialists: In 2015, we opened our own Connie Frank Kidney Transplant Center. This clinical location provides patient access to the kidney transplant team, as well as our own phlebotomy and infusion center.
Lifetime care: We are one of the only kidney transplant programs that provides care from birth through adulthood. When we use living donor transplants, patients of all ages can be seen in the same facility, which can help make recovery smoother and less stressful for families. We even have a special program to help children transition seamlessly to adult care.
Team approach: We use a collaborative model that has served as a guide for other programs. We were one of the first programs to incorporate nephrology and urology specialties, working in unison to treat advanced kidney disease.
Treatment for complex conditions: We are experts in caring for all types of diseases. We can perform transplants even if your condition impacts multiple organs. For example, we are uniquely skilled in kidney-pancreas transplant.
Center Information
NKR Transplants Last 12 Months: 51
Living Donor Transplants Prior Year: 117
Kidney for Life Participant: Yes
Low Eplet Transplants Last 12 Months: 11