Rush University Medical Center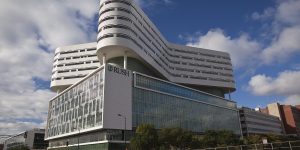 1620 W Harrison St.
Chicago, IL 60612
(312) 942-5000
www.rush.edu
Rush University Medical Center is an academic medical center that includes a 671-bed hospital serving adults and children, the 61-bed Johnston R. Bowman Health Center and Rush University. For more than 180 years, the Medical Center has been leading the way in developing innovative and often life-saving treatments.
About Our Kidney Transplant Program
At Rush, our specialists are highly experienced in complex kidney transplants, consistently achieving higher than the national average for patient survival rates. When we meet with you, we take into account both your medical and emotional needs. Our goal is to help you return to leading a happy, healthy life. At Rush, we offer:
Excellent outcomes: Rush kidney transplant patients have excellent outcomes. The Scientific Registry of Transplant Recipients confirms our kidney transplant survival rates for single organ transplants are among the highest in the Chicago area.
Personalized care: Our team members are focused on education and helping you get the support you need before and after transplant.
Specialized care for complex cases: Rush kidney transplant specialists are highly skilled in the most complex transplant techniques and procedures, including transplants if you have HIV or hepatitis C.
Follow-up care where—and when—you need it: A transplant is a major surgery that requires lifelong follow-up care. We offer care at a number of convenient locations in Chicago and Oak Brook.
Second opinion services: Rush offers second opinion services to help you explore all possible treatment options, including kidney transplant for advanced kidney disease.
Leading-edge mobile health: Rush is participating in a clinical study that offers a free kidney transplant app that helps you find a kidney donor by allowing you to share your story and need for a donor. When you use the app, you are 6.6 times more likely to find a living donor.
Center Information
NKR Transplants Last 12 Months: 10
Living Donor Transplants Prior Year: 20
Kidney for Life Participant: Yes
Low Eplet Transplants Last 12 Months: 1