Keck Medical Center of USC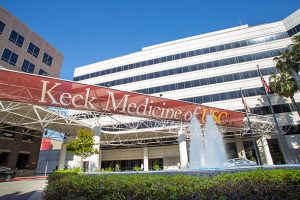 1500 San Pablo St.
Los Angeles, CA 90033
(800) 872-2273
www.keckmedicine.org
Keck Medicine of USC is the University of Southern California's medical enterprise, one of only two university-based medical systems in the Los Angeles area. Keck Medicine combines best-in-class physicians, access to cutting edge research, and state-of-the-art facilities to provide highly specialized care for our patients.
About Our Kidney Transplant Program
Our USC Transplant Institute team takes a complete approach to caring for transplant patients and living organ donors. We make sure you have a team of experts on your side every step of the way, from evaluation to recovery.
Our 1-year kidney transplant survival rates are among the highest in the Los Angeles area.
Our program is a part of the United Network for Organ Sharing (UNOS), which allows us to offer every patient the best chance to receive new organs.
We've recruited top surgeons and medical doctors from around the world.
Your transplant coordinator will guide you through every step of the process.
Our social workers and counselors can help you prepare for the challenges of surgery and recovery.
Our critical care experts help ensure a smooth healing process.
You also get the benefit of pharmacists, dietitians and nurses with specialty training.
Center Information
NKR Transplants Last 12 Months: 14
Living Donor Transplants Prior Year: 34
Kidney for Life Participant: No
Low Eplet Transplants Last 12 Months: 3