Centura Porter Adventist Hospital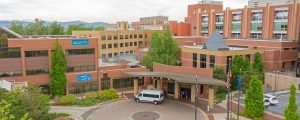 2525 S Downing St,
Denver, CO 80210
(303) 778-1955
www.centura.org
Founded in 1930, Porter Adventist Hospital has provided people throughout Denver and surrounding communities with compassionate, personalized healthcare. Today, Porter Adventist Hospital is a full-service, acute-care referral center specializing in joint replacement, spine surgery, organ transplant, behavioral health, cancer care, and innovative cardiac treatments.
About Our Kidney Transplant Program
We offer a leading kidney and liver transplant program that is among the premier kidney and liver transplant centers in the country.
The Centura Living Donor Kidney Transplant program is an essential component of Centura Health's medical and surgical strategy to care for all patients with chronic kidney disease.
Our program focuses on providing exceptional care and a personalized patient experience. Your treatment team will include a diverse group of physicians and team members from across the country who believe in a multidisciplinary approach to complex medical problems.
Center Information
NKR Transplants Last 12 Months: 32
Living Donor Transplants Prior Year: 58
Kidney for Life Participant: No
Low Eplet Transplants Last 12 Months: 0